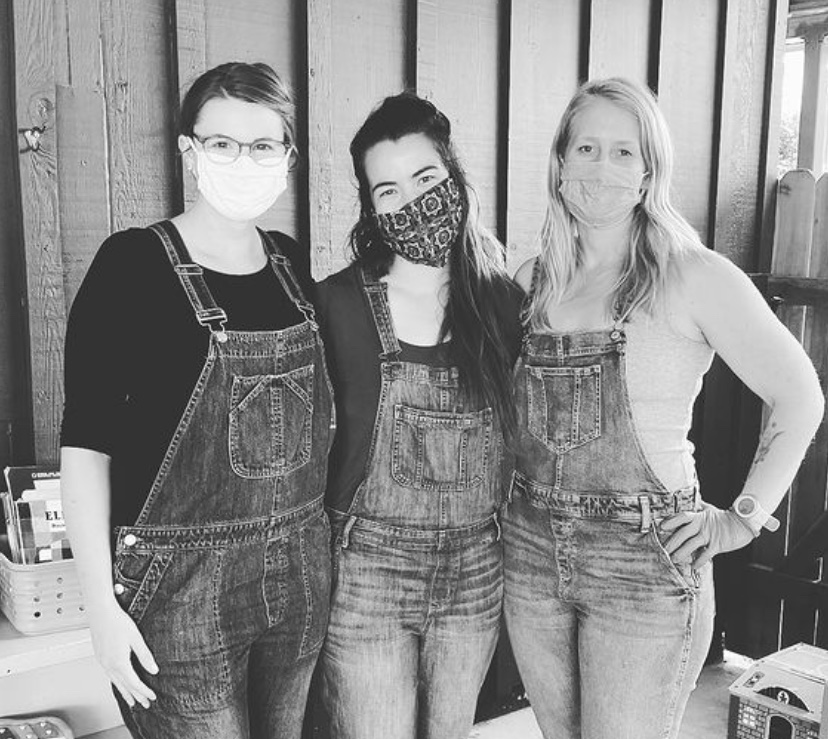 In these unprecedented times, DLC is committed first to the health and safety of our students and staff. The practices listed below have been evolving throughout the year and are always subject to change. However, we feel strongly that the systems we have in place are allowing your children and our teachers to come to school every day in an enriched environment where we can laugh, talk, play, express, and interact. But we are also as safe as possible and as sanitary as possible by following increased measures to stop or slow the spread of COVID-19.
Social Distancing:
Teachers maintain a distance of six feet from staff members and parents (when possible) and wear mask when speaking to each other. 
Try to only come into close contact with your co-teacher and the group of kids you are assigned to. Close contact is defined as within 6 feet for 15 cumulative minutes within an hour.
Teachers remain with only their group of students except when a teacher needs help, you are taking a child to the bathroom or you are giving a colleague their break.
Kids will stay in stable groups of 12 WHEN POSSIBLE. A few exceptions are listed below.

Co-mingling of groups will happen at beginning and end of day when there are 12 or less children present. Co-mingled groups will be outside (weather permitting) for fresh air and less possibility of "close contact."

Co-mingling will happen during the middle of the day enabling staff to take their lunch breaks. Currently only the Dragonfly and Butterfly groups are co-mingledmid-day. The Red Dinos and Blue Dinos also have cross over time (but together these groups have 12 or less children so they are considered on group for the purposes of this mitigation plan).

Groups may exceed 12 children at times of day when emergencies arise, when a teacher is out sick and a sub cannot be obtained, or if it is necessary for our staff to take their breaks, use the restroom and meet the needs of the children. Our ratio of adults to children will never exceed 1:12 and is most often still at 1:6.

When eating snack/lunch we aim to have children sit six feet apart to avoid saliva or bodily fluids going from one child to another. Tables are cleaned with soap and water and then sanitized with bleach solution before new child sits down to eat. 
If a child develops fever or flu like symptoms isolate in office until parents pick up. 
Drop-off/pick-up are currently in front of DLCat designated times. Parents and staff should maintain a distance of six feet when possible. Parents, please wear a mask at drop-off and pick-up in preparation for times that a staff member needs to come in closer proximity to receive your childor communicate with you about your child's day.
Masks:
While inside the school, teachers and children ages 3 and up wear masks or face shields. If someone is having trouble breathing or a child is uncomfortable wearing a mask, they may take their mask off.
Masks do not have to be worn outside.
If kids have a cough or runny nose due to allergies, they wear masks outside.
DLC provides face shields for our younger friends in the Dino group.
Masks must be washed daily.
DLC does have extra disposable masks for children who arrive without them.
Staff must have a clean mask every day. Children 3 and up must come to school with 2-3 masks in case they get soiled.
At drop-off/pick-up teachers and parents must wear masks.
Children's Daily Packing List:
Children must bring their supplies in a bag they can carry. A shoulder bag like a shopping bag seems to work best. At this time we are not using cubbies to hold children's belongings. Children need all items from home in a bag so they can easily carry everything when they switch classrooms or outdoor yards and when they go home.
Every day you child needs these items in their bag:

Two-three changes of clothing – including underwear and socks.
During winter months please layer your child clothing and send gloves and a hat.

2-3 clean masks for children 3 years and up

Label all belongings with their name or initials

All belongings will be sent home daily

We recommend washing your child's lunch box daily
Handwashing:
Kids wash hands when they arrive at school and before they leave for at least 20 seconds with soap and water.
Hand sanitizer may be used when getting to a sink is not possible.
Before and after they eat snack and lunch
After they touch their mouth or nose, even without mucus visibly present
After they cough or sneeze into hands
After they blow their nose into a tissue
Adults should wash hands frequently:

When you arrive and before you leave
Before and after food serving
After touching face – BUT TRY NOT TO TOUCH YOUR FACE!
After blowing nose, coughing or sneezing
When you enter kitchen
After using the bathroom
After helping a child w/mask
After touching a child
When you enter a new space
Sanitizing Tables & Chairs:

Before and after snack/lunch/activities we wash table & chairs with soapy water first, then sanitize with bleach solution.
Sanitizing toys, equipment and bathrooms:
Yard equipment and toys must be bleached before new group comes to play. We spray down surfaces and supplies kids frequently touch. For example, tires, ladders, swings, zoom tower railing, tables, and metal climbing structure.

Once a week supplies/toys must be sanitized. Fill a grey bin of bleach-solution (1 cup of bleach to 1 gallon of water – 1 gallon has 16 cups). Put small toys and manipulatives in bin and soak for 10 minutes. Then set out to air dry on a large towel.

Wipe down shelves & cubbies with soapy water first, then sanitize with bleach-solution soaked rag.

Sanitize adult and children bathrooms after every use.

Sanitize high traffic areas (door knobs, hallway wall, check in computer, etc) at least once an hour.

Sanitize toys or materials that have gone in a child's mouth.
Illness Policy During COVID-19:
If your child has ANY symptoms of illness please keep them home until 48 hours after symptoms subside.
Symptoms of illness may include but are not limited to; fever, cough, sore throat, headache, vomiting, diarrhea, runny nose, lethargy, rash, etc.
Child must be fever free for 48 hours without fever reducing medication.
If a child has two or more COVID symptoms we recommend getting them tested.
Here is a list of sites where children can be tested https://mail.google.com/mail/u/0/?tab=rm&ogbl#search/kennedy/WhctKJVzZJfprBDTGsjjVZJTtKvfVrjMZSPXCmjzmrpKjBhcGNsFdnvrFRFbChLxKXChVWv?compose=DXDwSWwxqQwbznKrkMKFWrcPLBJZmHRvDmPQRJnCNTZCqQLvmMHGRQMsCwGLVVCrsrrxtXjnfmjDPMFwGJFLRNdGFMFwcFTRXDHsRTnGxLslpFzBTZxFFPGq&projector=1&messagePartId=0.2
If a child or staff member (or a family member living in the same household) is being tested for COVID, they must stay home until test results are received.
If a child/teacher has been exposed to someone with a positive COVID result, or a suspected positive COVID case, they must stay home and begin quarantine protocol.
If a child/teacher or a family member tests positive for COVID they must stay home for 14 days after the onset of symptoms . This is per the CDC/SCDPH recommendations.
In the event that a child, teacher, family member is sick with COVID like symptoms, or tests positive for COVID, DLC will notify all families vis e-mail.
DLC will not close if there is a single COVID positive case. UNLESS we are directed to do so by SCDPH, or we need to do so in order to sanitize and clean.
If someone within DLC's program is COVID positive and enough staff have come into contact with them, our teachers may be required to quarantine. In this case, DLC may have to close until further notice. No tuition refunds will be given.However, we will do our best to acquire substitute teachers when possible so we can remain open and serve families not affected by quarantine.
If a child/teacher is reported to be COVID positive we will close off and sanitize all spaces and materials used by that person.
Flow of Day
DLC Hours of Operation During COVID-19 Mitigation Period 7:30 am – 5:45pm
Drop-off times: 7:30, 8:00-8:10 & 8:45-9:00
Pick-Up Times: 12:00, 1:00, 2:00, 4:00-4:10, 4:45, 5:45
*Parents wait out front and a teacher will meet you. If you arrive outside the allotted drop-off times, call DLC and someone may be able to meet you, or you may have to wait until next pick-up window. For pick-ups, our staff must know ahead of time what time you will arrive. Please try to stick to a consistent schedule.
6:30 Bonnie arrives, preps snack & lunch trays, sets up for her group
7:30 First drop-off time: Free play with teacher Jami or Bonnie – Groups of children are co-mingled during this time of day due to small the number of children. Meaning, kids will spend time with peers outside their group. Weather permitting, we will be outside for fresh air.
8:00 Second drop off time: Blue Dinos and Red Dinos are combined with Stephanie and Kim inside on cold days/side yard on non-cold days. Dragonflies and Butterflies co-mingled on patio (or front room on cold days) with Bonnie. School-agers with Jamie Grace in distance learning room.
Arrivals; Teachers greet families in front of school and takes temperatures with no touch infrared thermometer. Jami delivers children to group teacher for hand washing and to stow belongings.
8:45 Butterflies go with Justine to Garden Yard – their small group area on good weather days – Butterfly inside classroom on bad weather days.
Dragonflies use patio for small group time regardless of weather.
School-agers use nap room for distance learning.
Blue Dinos to swing yard for snack (or stay in middle room on bad weather days). Red Dinos to side yard (inside classroom for bad weather days – or side yard patio which is heated and enclosed).
8:45-9:00: Morning snack in separate groups.
All Groups:
9:15 Circle time
9:30-10:45: Small Group activities/projects
11:00 – 12:00: Lunch
11:45 – 2:20 Nap time (only for designated Blue and Red Dinos). Stephanie is the nap room teacher
12:00-1:00 Water play, gross motor activities, outdoor exploration, or quiet inside activities on cold days –
Dragonflies & Butterflies Combined 12-2 in swing yard.
Blue and Red Dinos combined on side yard.
School-agers in garden yard 12-2, on a walk, side yard on bad weather days..
1:15 Afternoon Snack
2:00 – 3:30: Afternoon small group activities/projects
Blue Dinos inside classroom and Red Dinos on side yard.
Butterflies & Dragonflies combined (Black Widow Group) with teacher Danny for afternoon group inside Butterfly room.
School-agers distance learning in nap room.
3:30: "4:00 Snack"
3:50 Kids going home at 4:00 pack up belongings, shoes on and wash hands.
4:00 Pick up; Parents meet teacher at white side yard gate to receive their children.
4:00-4:35 Remaining children combine for quiet activities or outdoor play. Remaining kids co-mingled with other groups, unless there is more than 12 kids, then kids will remain separate.
4:45 Pick-Up; Parents meet teacher at white side yard gate to receive their children.
4:45-5:45 Remaining children engage in open play (building, art, playdough, etc) in co-mingled group until final pick up.
5:45 Pick-Up; Final Pick-up. DLC Closed.
*If you are running late please call DLC at (916) 966-7076. For every minute you arrive after 5:45 a $1/minute fee is charged. Cash must be paid to the closing teacher.